The Beatles Guitar Project presents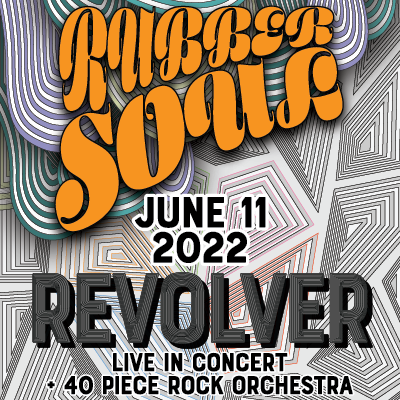 Effective April 1, 2022, the State of California is changing guidelines for indoor mega-events. Proof of vaccination and masking will no longer be required but will still be strongly encouraged for events at the Marin Center. More information about the state's new guidelines, can be found here.
There are still indoor public settings that require masks, so it's important to be prepared. Also, our event producers have the option to enforce a universal masking policy so having a mask (and even an extra) available is highly advised. It is still strongly recommended that everyone, regardless of vaccination status, continue to wear a well-fitting mask in indoor public settings.
For the full policy, including answers to many frequently asked questions, please visit our COVID information page.


The Beatles Rubber Soul & Revolver Live in Concert

Two Sets of Live Music, in Concert with our 40-piece Professional Rock-Orchestra with Professional Guest Vocalists,
This unrivaled & professionally produced musical show, will include a Graphical Film & Media Show to highlight the life and music of The Beatles in a fresh inspiring way.
Saturday, June 11 at Veterans Memorial Auditorium (Marin Center), San Rafael CA7:00pm

$102, $86, $64, $42(Marin Center Fees Included)
Of the 14 tracks on Rubber Soul, nine have been performed live. But only two of the songs were regulars on the Beatles' setlist during their final US tour.
SPMA has painstakingly transcribed and arranged The Beatles Rubber Soul record "In Its Entirety," for our Professionals: Rhythm Section, Strings, Woodwinds, Brass, Percussion, & Choir. Very "Special Professional Guests Musicians," from the Sacramento Area have collaborated for this concert in an effort to support The Students of SPMA's Beatles Guitar Project & the iHeartMusic.Org Scholarship Fund, which helps unite Professional Musicians with Student Musicians & bring music education, and guitar programs to underserved schools in the Sacramento region, & in the towns we tour in.
The Beatles Guitar Project is a small group of All Star Student Musicians who receive weekly lessons at SPMA and meet weekly throughout the year to learn & rehearse ENTIRE Beatles Albums in order to perform alongside a Professional Rock-Orchestra for a once in a lifetime experience. The environment for the students is like no other music academy; Professional Musicians join the rehearsals at Sacramento Preparatory Music Academy (SPMA), to rehearse alongside the students as the tour schedule approaches.
In the end, when The Beatles Guitar Project takes the stage, the Audience will experience the full sound of a Professional Rock-Orchestra, including our very special Professional guest Singers & Professional Background Vocalists, and visually witness the coming together of Pro's & the next generation of up and coming musicians & songwriters. The Students of The Beatles Guitar Project practice and rehearse year round for performance opportunities such as these; this is an amazing opportunity for these select scholarship students.