RBT presents Swan Lake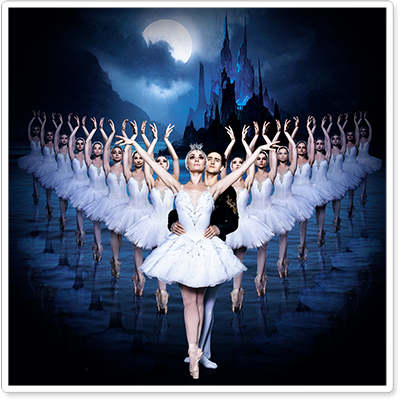 Effective April 1, 2022, the State of California is changing guidelines for indoor mega-events. Proof of vaccination and masking will no longer be required but will still be strongly encouraged for events at the Marin Center. More information about the state's new guidelines, can be found here.
There are still indoor public settings that require masks, so it's important to be prepared. Also, our event producers have the option to enforce a universal masking policy so having a mask (and even an extra) available is highly advised. It is still strongly recommended that everyone, regardless of vaccination status, continue to wear a well-fitting mask in indoor public settings. For the full policy, including answers to many frequently asked questions, please visit our
COVID information page.
Wednesday, April 6, 7:30pm
$119, $97, $75, $53, $36
(Marin Center fees Included)
RBT'S STATEMENT ON WAR WITH UKRAINE:
RBT is an independent, US-owned ballet company with a multinational cast from nine different countries including Ukraine, Belarus, Russia, Poland, Armenia, Japan, Italy, and Slovenia. RBT honors the traditions of classical Russian ballet, Vaganova technique, the foundation of the world ballet. We are a living example of unity, having nine different nations together on one stage creating beauty, not destroying it. We are grateful to all kind words of support extended to our dancers, whose families are currently in danger.
We Dance for Peace. We stand with Ukraine.
After a successful 2019 US tour, RBT returns to San Rafael with a must-see RBT's production of Pyotr Ilyich Tchaikovsky's timeless classic!
Choreographer Nadezhda Kalinina (Mariinsky Theatre, Teatro Lirico, Omsk State Music Theatre) lovingly retouches the oldest St. Petersburg version of the ballet and adds her vision and something more, that undoubtedly will leave audiences flushed with emotion.
RBT's dancers bring her choreography to life along with the new exquisite hand-painted sets and 150 new hand-sewn costumes. Designed by the young, accomplished Sergei Novikov (Mariinsky Theatre, Omsk State Music Theatre, St. Petersburg State Music Hall), these are in the century-old tradition of the great theatrical masters.
SFX makeup by Award-winning Irina Strukova (Crazy Rich Asians, Netflix, HBO) completes the already perfect glittering fantasy that is Swan Lake!
RBT official website:
http://russianballettheatre.com
See a preview here