Bill Maher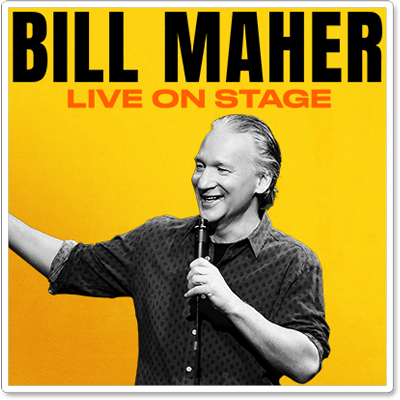 We advise you to arrive 90 minutes before curtain to ensure you have time for parking, for vaccination check points, and to find your seats once you are indoors.
Based on the recommendation from Marin County Public Health, we are requiring proof of vaccination for all patrons, staff, stagehands, ticket holders, security, concessions, and anyone working indoors within our facilities. We will also continue to require all patrons to wear masks at performances until further notice.
To show proof of vaccination:
To gain admittance, you are required to show either your physical vaccination card or a photo of your card along with your photo ID.
We recommend keeping a photo of your card on your phone for easy access at all times.
If you prefer not carrying your actual COVID-19 vaccine card or saving a photo of it on your phone, the My Vaccine Record portal allows you to download a digital version instead. This will also be accepted as proof of vaccination, along with your photo ID.

Rick Bartalini Presents
Bill Maher
Saturday, September 25, 2021, 8:00 pm
Platinum Seating: $321.75 $293.75 (all fees included)
Regular Seating: $156.75, $123.75, $99.75, $61.75 (all fees included)

Bill Maher, host of HBO's smash hit Real Time, is returning to San Rafael with an all new stand-up comedy show in 2021. Maher will bring his special brand of political humor to Marin Center on September 25 for an unforgettable evening of comedy. After one of the craziest years in modern history, Maher will have plenty of hot topics to cover in what is sure to be one of the most talked about comedy shows of 2021.

For more than twenty years, Bill Maher has set the boundaries of where funny, political talk can go on American television. First on Politically Incorrect (Comedy Central, ABC, 1993-2002), and for the last thirteen years on HBO's Real Time, Maher's combination of unflinching honesty and big laughs have garnered him 34 Emmy nominations. Maher won his first Emmy in 2014 as executive producer for HBO series, VICE. In October of 2008, this same combination was on display in Maher's uproarious and unprecedented swipe at organized religion, Religulous, directed by Larry Charles (Borat). The documentary has gone on to become the 8th Highest Grossing Documentary ever.

In addition to his television program – which has featured such regular visitors as Howard Dean, Ben Affleck, Robin Williams, Arianna Huffington, Cory Booker and Michael Moore – Maher has written five bestsellers: True Story, Does Anybody Have a Problem with That? Politically Incorrect's Greatest Hits, When You Ride Alone, You Ride with Bin Laden, New Rules: Polite Musings from a Timid Observer, and most recently, The New New Rules: A Funny Look at How Everybody But Me Has Their Head Up Their Ass.

Maher started his career as a stand-up comedian in 1979, and still performs at least fifty dates a year in Las Vegas and in sold out theaters all across the country. Three of his ten stand-up specials for HBO – 2007's The Decider, 2005's I'm Swiss, as well as the hilarious, Bill Maher … But I'm Not Wrong, – have been nominated for Emmy awards.

Maher was born in New York City, raised in River Vale, N.J. and went to Cornell University. He now resides in Los Angeles.